Gates Ribbed Belt For Volkswagen Caddy 10-18 2.0 TDI 4motion (2K) Wagon 6PK1070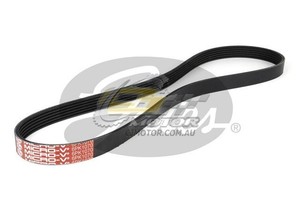 ---
Please purchase the item according to the part number
Item: Gates Ribbed Belt For Volkswagen Caddy 2010-2018 2.0 TDI 4motion (2K) Wagon Diesel 6PK1070
| | | | | | | | |
| --- | --- | --- | --- | --- | --- | --- | --- |
| Part number | Make | Model | Year | Series | Body | Type | Notes |
| 6PK1070 | Volkswagen | Caddy | 2010-2018 | 2.0 TDI 4motion (2K) | Wagon | Diesel | -- |
Micro-V AT® Belts
Gates Micro-V® AT™ Multi-ribbed Belts Make Accessory Belt Drive Systems Run Like New Again

Multi-ribbed belts must be flexible enough to smoothly transmit power around smaller pulleys that rotate at thousands of revolutions per minute (rpm). They must be structurally sound to handle high loads under proper tension.  In addition, they must endure extremes of cold and heat without losing their structural integrity while functioning properly amid environmental contaminants such as dirt, grease and oil...

 Gates Micro-V® AT™ - technology so advanced, it's patented!Facts about Gates Micro-V® AT™ beltsGates is the only manufacturer who exclusively uses EPDM for the entire multi-ribbed belt range.  Gates EPDM Micro-V® AT™ belts show excellent resistance to wear, help correct instability in aged systems by minimising misalignment from worn component bearings, boast spectacular resistance to flex fatigue and high and low temperatures, and ensure optimal load characteristics.

 

At Gates we know our Micro-V® belt is the best in the business. We truly believe in the quality of our products and their effectiveness at boosting in-car performance. The Micro-V® AT™ is quiet, efficient and offers optimum performance on every car.

 
About Gates Corporation
OUR COMPANY

Gates Corporation is a global diversified industrial company that provides advanced power transmission and fluid transfer solutions by engineering products and services that reduce the total cost of ownership for a wide variety of applications. Our products and services serve customers in several end market segments these include Automotive (Light Auto), Transportation (Heavy Duty Segment), Energy/Exploration/Extraction (Mining, Oil & Gas), Infrastructure & Agriculture, and Process & Specialty (Industrial, Recreation and Other). Gates belts, hose and hydraulic solutions are used for both replacement and original equipment applications for the end markets we service. 

As an engineering leader with a strong foundation in research and development, Gates is committed to advancing the science of motion performance by developing safe, forward-thinking products, services, systems, and solutions, as well as fostering long-term customer and employee relationships. Headquartered in Denver, Colorado, Gates employs over 14,000 people across 106 locations in 30 countries.

Gates Corporation Australia operates from a distribution centre in Dandenong South and provides a strong coverage of our markets through a dedicated field sales team, located in each state, servicing all states and territories as well as New Zealand. Additionally, Gates services the oil and gas market in Australia with the Gates Engineering & Services facility in Perth.